Spin and go preflop charts from poker schools SteelPhoenix & Nerdside
The Steel Phoenix & Nerd Side pack was developed by a group of trainers: nice2meet885, gunpowderr, and cathars1s.
Last results
nice2meet885
Spin&go legend, coach at NerdSide
plays $250-500 limits
livetime EV: 500k+
cathars1s
Coach at SteelPhoenix
plays $100 limit
$40 - 65 cEV
$100 - 42 cEV
Gunpowderr
Coach at SteelPhoenix
plays 25-50€ limits
25€ - 65 cEV
50€ - 55 cEV
This pack contains charts for all frequent preflop situations against different types of players (fishes and regs), that are applicable at any limits.
3 max
BTN
SB vs BTN open shove
SB vs BTN min raise
SB vs BTN limp
SB vs BB
BB vs BTN open shove
BB vs BTN min raise
BB vs BTN 3x
BB vs BTN limp
BB vs SB open shove
BB vs SB min raise
BB vs SB 3x
BB vs SB limp
BB vs min raise + call
HU
SB
BB vs SB open shove
BB vs SB min raise
BB vs 3x
BB vs SB limp
For a better understanding of the material, some situations include text descriptions and there is a video review in Russian with an explanation of adjustments against various types of opponents.
BTN vs regs example for 11-12 bb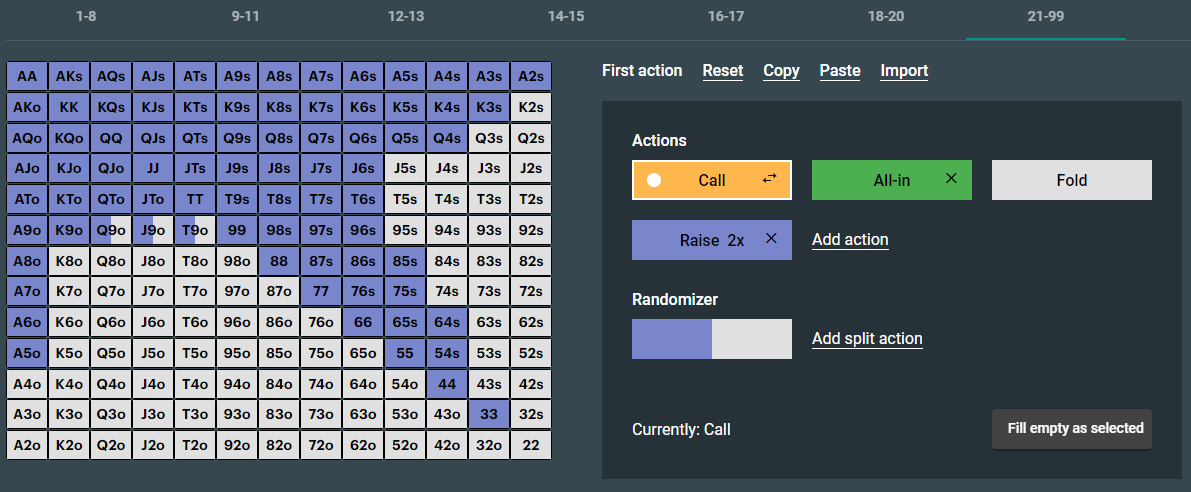 A training session similar to a real game is available to study the charts. You can choose the type of opponents, stack size, hand range, and the game situation.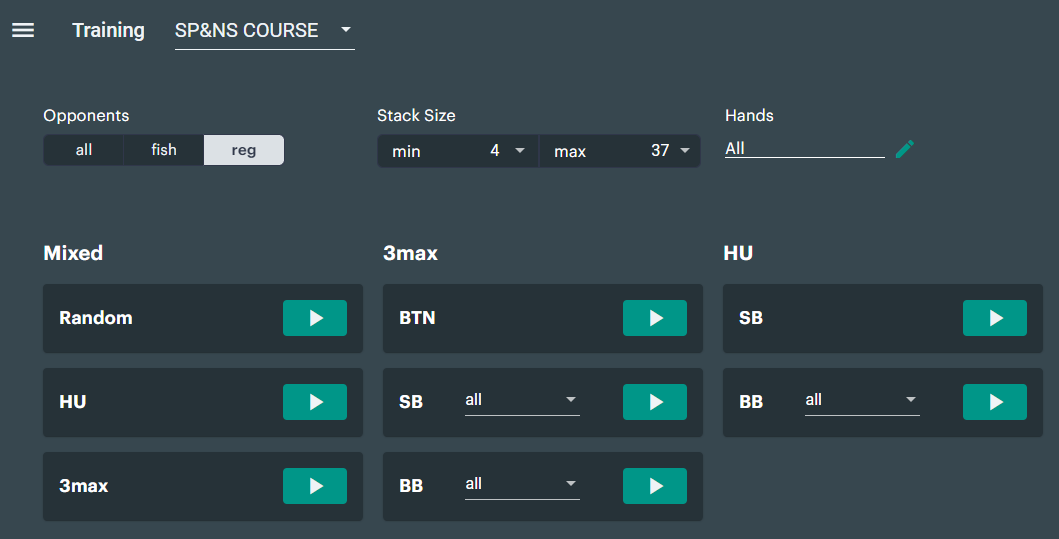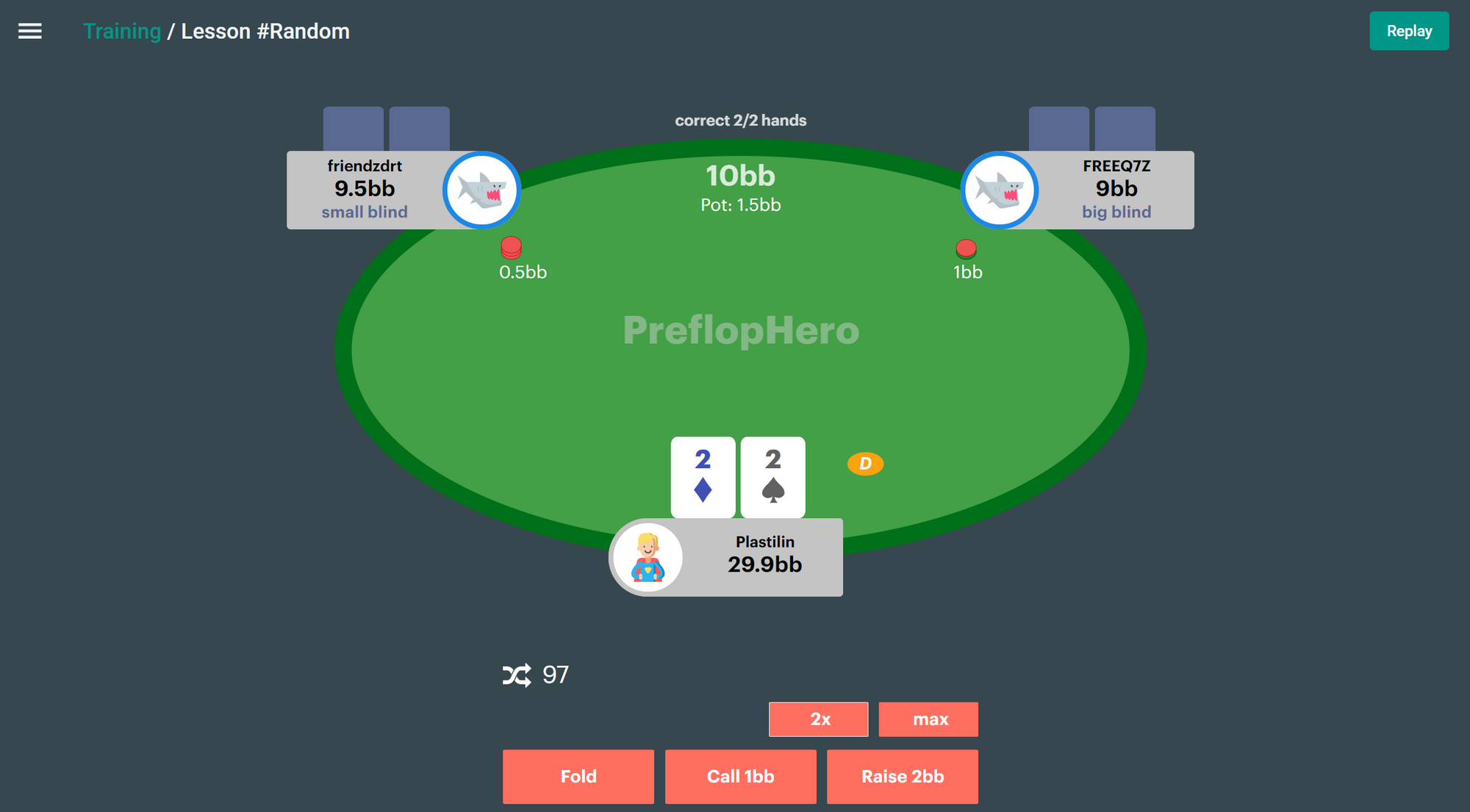 After training, you can evaluate the results in the Statistics section.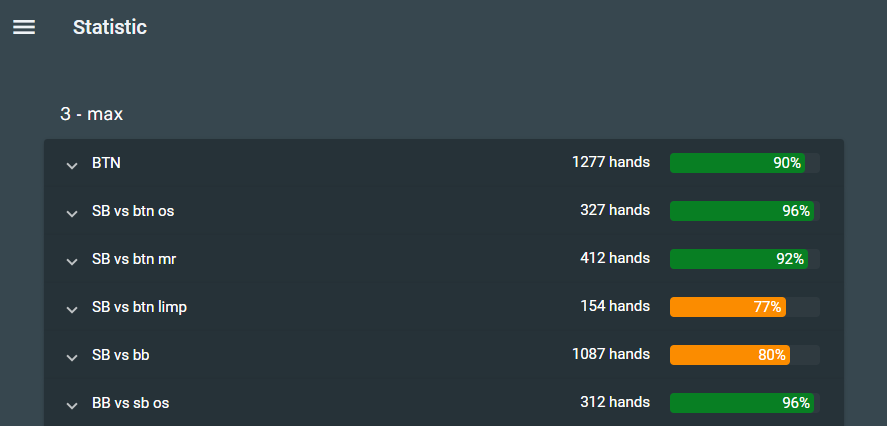 And also see the mistakes.

You can buy SteelPhoenix & NerdSide charts for $119. Upon purchase, a 1-month premium subscription is provided as a bonus (required for training, access to statistics, and creating your own charts). Access to the charts does not depend on a subscription, you can always use them.
When buying the pack, you can get the first month of training at Steel Phoenix or NerdSide school for free.
Details
You can pay for the charts by credit card in the application. If you wish to pay by other means, such as Skrill or poker room transfer, please contact us via Skype PreflopHero.
SteelPhoenix & NerdSide
Author
nice2meet885, gunpowderr, cathars1s
Last update
January 18, 2021
Upon purchase,
1 month of PreflopHero premium is provided